(( Abhogi
(( krishnaBhairavi
Featured tracks :
Abhogi / Avishkar
Her creation raga
krishnaBhairavi / Prabandh
Preserving North Indian classical vocal music under Mewati traditions she has also performed her creations. Shweta Jhaveri's Shruti-Raaga-Invocation, dedicates to her cherished musical areas and north Indian classical vocal forms Khyaal, Thumri, Dhrupad compositions, Bhajan and more variety that she has performed since her young age. A songbook of Rãga : Saraswati bani is being documented which includes her vocally performed raga music from 1980s with a few of her new creations. Her vocal music has featured in international productions.


Shweta Jhaveri offers
special Group classes at
the Chitresh Das Institute
for August & September 2017
Open to register at
Chitresh Das Institute.org
---------------

Spring & Summer classes :
Individual classes / Marin
(1998-2017)
voice culture
Shruti/musical sound
Raaga Improvisation,
techniques, Vocal forms
Invocation / Bhajan &
meditative compositions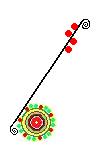 : Vocal classical music
of North India :
: Spring & Summer classes :
Individual classes / Marin
Please
email
Spring & Summer classes by Shweta Jhaveri began for a part of the year since 1998 in Marin & previously in Berkeley,CA attended by students & music lovers. In 1990s she was privileged to teach at the AliAkbar College of Music.California, at the Pandit Jasraj School of Music.Vancouver and a few prestigious venues in the world.