Shweta Jhaveri Concert
Norman Rothstein Theatre
Vancouver BC 2003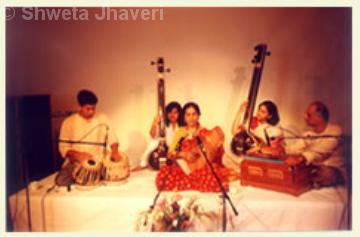 When I think of Pandit Jasraj in concert, When I think of Pandit Jasraj in concert, I am reminded of a thunderstorm. his voice exudes a certain calmness and as he progresses through each composition. The delicacy with which he handles each syllable is almost droplet like. As he reaches the frenzied crescendo the concert hall inevitably fills with thunderous rapture of his chameleon like voice.

If Pandit Jasraj is thunder, Shweta's performance can be thought of as fluid in motion… effortless, calming and all encompassing. On Saturday night the crowd gathered to hear Shweta was treated with an evening of Khayal, Tappa and other lighter classical forms. Many in her crowd who were more familiar with her Jazz collaborations were no doubt astounded by the effortlessness with which she delivered the most traditional and technically demanding of the Hindustani vocal tradition.

In the first half of the show, Shweta presented 3 traditional compositions the real treat however, came in the second half as she chose to present her own compositions from her most recent releases. What was stunning about her compositions was the fact that at times, it seemed as if we were listening to the works of an old master, while at others, the crystal-like flourishes gave us glimpses into the soul of a playful and young genius at work.

On tabla, Shweta-ji was accompanied by Ravi Naimpally of Toronto. While his accompanyment was not flashy, his understated style and grace were the perfect compliment to the flowing vocals presented by Shweta. Amit Arya and Neetu Matharu, both students of the School, did a fantastic job on harmonium and Tanpura respectively.

- by Avinash Maniram.