Tutelage : Reviews
Shweta Jhaveri vocal accompanyment reviews.

---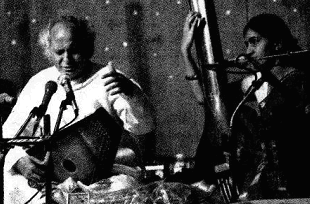 Pandit Jasraj in Concert / India, 1991

" The musician had an excellent support in his student Shweta Jhaveri. The promising yongster with superb control of her voice, showed immense potential. Jasraj was impressed by her singing and acknowledged it. Appa Jalgaonkar, another great Hindustani musician, who accompanied him on the harmonium also kept pace with the vocalist and displayed his excellent command over the instrument."


---
The Economic Times, Bombay, 1989
"Goa's Kala Academy Forges Ahead"

" Easily the great singing of Pandit Jasraj on the last evening of the fete dominated the proceedings. For me it was a revealation. It was so wonderfully innovative for a classical vocal recital, for example Jasraj had supporting him a young student called Shweta Jhaveri. She had a f ine voice from husky to the higher reaches. The singing of master and disciple had a complimentary quality. Jasraj would launch into a line and Shweta would complete it. I have never heard supporting juniors playing such a positive role in a recital. It had to be heard to be understood in all its breathtaking novelty." - Staff Reporter.(excerpt re-typed f rom the original)

---
Maandag 16 Oktober 1989, Europe
Pandit Jasraj geinspireerd door publiek
Pandit Jasraj inspired by public

" A performance is successful when the artist surpasses techniques. All possibilities of the voice were demonstrated. For this the contribution of vocalist Shweta Jhaveri has to be emphasized. She gave with her poetic voice an extra dimention to the concert."
- Anton v. d. kolk


---